Posted on
By Dorángela Giraldo Arana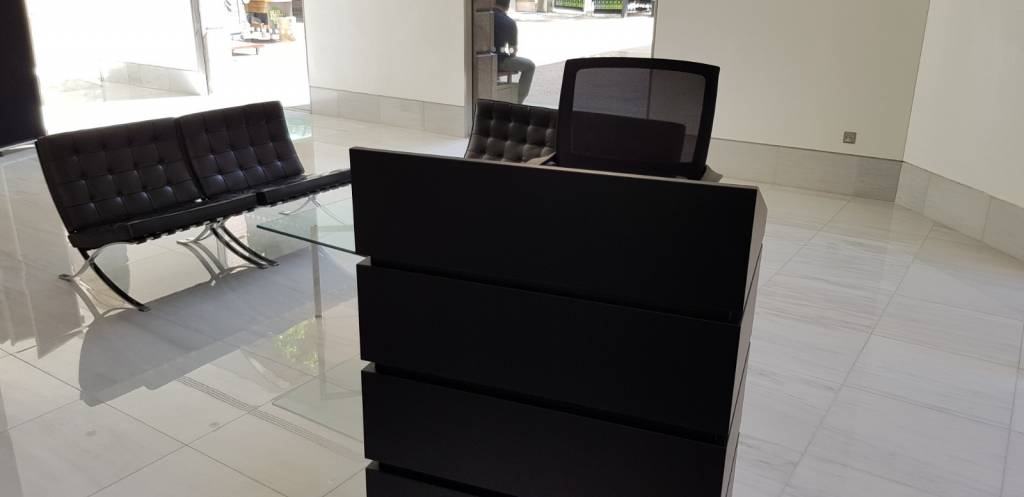 How to use a lectern creating a positive first impression.
Receiving guests is an important part in a company. A component, which is often underestimated.
After all, a first impression is permanent in most cases. It is therefore very important to immediately hit the right string in a first meeting, whether this is for a new client or a partner who enters the office the first time.
A law firm from London, part of a global company and wanting to remain anonymous for legal reasons, is well aware of this. To make that first, all-deciding impression, the law firm wanted to create a stand-alone station for their reception team, which would contribute to deliver a warm and more client facing 'meet and greet' service. The station needs to be mobile, so the additional reception point is flexible and movable to suit the required positioning.
As aesthetics being a decisive role in this situation, the facilities manager started their journey for a solution on Pinterest. Soon his eye fell on a lectern by Bravour, which was presented online by our webshop. The lectern model, which is called "Smooth", is a good addition to the atmosphere of this law firm.
Thanks to years of experience, the Bravour product specialists know that the purchase process of a lectern can be quite complex. For example, many upgrades and versions are possible and choosing a finish can be very difficult.

That is why intensive personal contact is always possible and we are happy to send examples of the finish, so that the customer really gets what he expects.
This also applies to the facility manager of the law firm, who trusted on the knowledge of their personal contact person.

A positive point was the modularity of the lectern, one of the most famous features of Bravour's products.
Besides some other small modifications, adding wheels to the lectern made the lectern a perfect match to the demanded solution.

 

 
"Fantastic service all round!! It not easy to order a product you haven't seen and from a different country but the team made it easy. They provided us with a sample of the finish, specifications and also worked through some minor modifications we required. We always felt supported throughout the whole process and they had a really polite, friendly, responsive and very professional attitude."

– Anonymous – Facilities Manager Law Firm