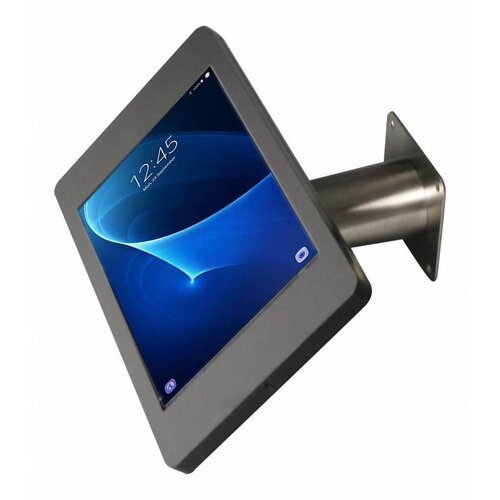 Tablet wall or desk mounts for tablets
Tablet wall or desk mounts for tablets
In this category you will find tablet wall stands and tablet desk stands, two stands in one! 

these enclosure solutions can be mounted 

horizontal to the wall, or vertical to a flat surface like a table, desk or counter top.
Types of cassettes  
Securo 
Seen everywhere around the globe. The Securo tablet stand design combines simplicity and functionality with maximum safety and comfort. A sturdy metal casing secures your Tablet or iPad and does not compromise the distinguished presentation skills. Securo is available in white, black, silvergrey and stainless steel finish. 
Meglio
Colourful, elegant round edge style tablet stand. The acrylic holder is available in almost every colour  imaginable. The cassette is mounted on a sturdy metal base which is available in white, black, silvergrey and stainless steel finish. 
Fino
Designed as a luxurious holder for tablets. The difference between this model and the meglio is that it is dedicated for a certain model tablet. We have chosen to produce for iPad air , iPad Pro and Samsung a/s, Samsung Pro 12.2". 
Prezzo
Our budget line offers great value for money. This multifunctional tablet holder can be mounted on a wall or countertop and is available in black and white. 
Lusso
Lusso tablet holder is dedicated to iPad Air, iPad Air2 and iPad Pro 9,7", providing a tight fit and a friendly allure. 
The built-in push lock secures your tablet against theft and the tablet can be easily inserted into the casing with the optimal 
'slip and slide'
 system.