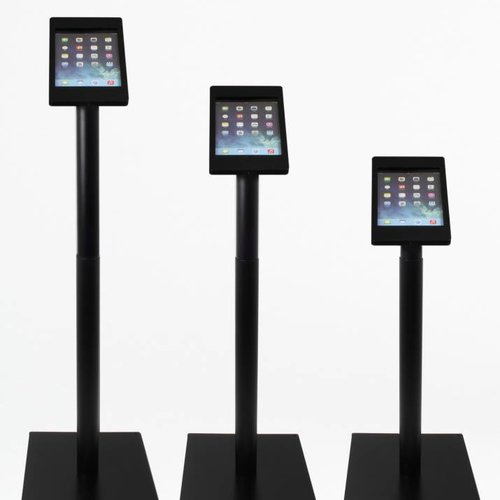 Tablet stands
Present your tablet in a public environment securely 
Your screen presentation on a tablet device is vulnerable to theft and vandalism. Present your digital information, POS system, registration console, digital signage, touchscreen, tablet and iPad in a secure and beautiful way with tablet stands. Our enclosures do not affect the sound quality and wireless reception. Enclosures are available for Android devices and Apple iOS tablets.
All models have it:
Safeguard tablet enclosure with keylock option (lock is included in Meglio & Fino design casings) your devices are safe from theft and can be pulled out and replaced easily by the key holder only.
Maximum mobility!


Twist it, tilt it, roll it! We offer you tablet enclosures for Android and Apple that can do it all! With standard and optional features you can compile your tablet kiosk exactly to your needs. Switch from portrait to landscape with turndisc, adjust the view angle with tilt unit, set it to the perfect height with height adjustable options or roll it anywhere convenient with a wheel set. 

Invisible cable management


Cables are not visible and led away from the inside of the enclosure to and through the pole. No tripping and a smooth performance. 

Also available:
Acrylic document-, card-, headphone- or keyboard-holders and accesorios, Transport and storage boxes, extra powercables, tablet kiosk display boards with or witohout you company styled signing. 
Securo
Seen everywhere around the globe. The Securo tablet stand design combines simplicity and functionality with maximum safety and comfort. A sturdy metal casing secures your Tablet or iPad and does not compromise the distinguished presentation skills. Securo is available in white, black, silvergrey and stainless steel finish. 
Meglio
Colourful, elegant round edge style tablet stand. The acrylic holder is available in almost every colour  imaginable. The tablet holder is mounted on a sturdy metal base which is available in white, black, silvergrey and stainless steel finish. 
Fino
Designed as a luxurious holder for tablets. The difference between this model and the meglio is that it is dedicated for a certain model tablet. We have chosen to produce for iPad air , iPad Pro and Samsung a/s, Samsung Pro 12.2". 
Prezzo
Our budget line offers great value for money. This multifunctional tablet holder can be mounted on a wall or countertop and is available in black and white. 
Lusso
Lusso tablet holder is dedicated to iPad Air, iPad Air2 and iPad Pro 9,7", providing a tight fit and a friendly allure. The built-in push lock secures your tablet against theft and the tablet can be easily inserted into the casing with the optimal 'slip and slide' system.